As we commented in previous entries, the optimal temperature range for the preservation of the semen doses is between 15-17ºC (15-19ºC), in which its useful life is maximized. This is due to the fact that its metabolic activity is decreased at basal levels, without altering the integrity of its membrane and various organelles. It is important to keep this temperature throughout the transport and in the conservation chamber of the farm, avoiding fluctuations in temperature.
By maintaining this temperature, we are going to promote the preservation of the viability of the sperm cell for a longer period (Figure 1).
The semen doses, being a liquid form, have high thermal inertia, which means that when one high volume is transported hot, the chambers are unable to produce sufficient cooling of the doses during their transport. On the other hand, this is an advantage when transporting doses that have previously reached the desired temperature, either when transported at a controlled temperature or via a delivery company or courier (parcel).

We must bear in mind that, while transport, semen doses are going to be submitted to stressing factors:
Possible variation of temperature / temperature not controlled
Shaking / vibration
This means that an opportunity for error can be maximized, since one boar stud can supply many customers (Figure 2).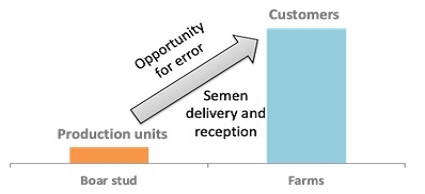 What is more, as the transportation is between the boar stud and the farm, being sometimes carried out by personnel from outside both, it results in a difficult balance between both scenarios. (Figure 3).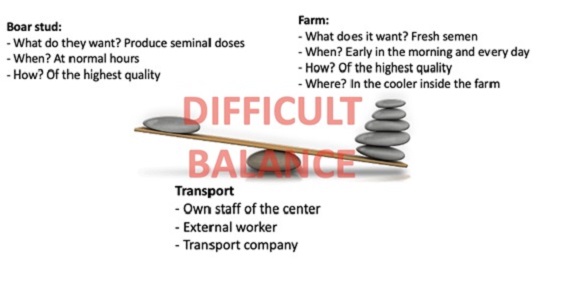 Therefore, it is very important to transport it in the right way. The following are some pieces of advice:
Recommendations for the controlled temperature transport:
Transport the doses that have previously reached the stabilization temperature
Use transport chambers / conditioned vehicles according to the number of doses transported
Record continuously the temperature to detect possible failures during transport.
Minimize the opening time of the container where the semen doses are.
Do not stop the vehicle for long periods of time and avoid its direct exposure to the sun.
All these recommendations are aimed at transport of doses at controlled temperature, but sometimes this is not possible due to multiple reasons.
When the only option is to send the semen doses without a controlled temperature, the most common case would be courier companies, then you will have to properly insulate the parcel to prevent variation and fluctuation due to external temperatures. In this case, we recommend the following:
Package only the doses that have previously reached the stabilization temperature.
Use polyethylene containers with 4-5 cm thickness at least or double-walled ones.
Use Gel-packs at 15-17ºC to help preserve temperature.
In summer or in high-temperature climates, for long-distance shipments you can use Gel packs at 4-8ºC or frozen ones to maintain temperature. The packs should never touch the doses. They should be always separated by a cardboard or in the space that separates both chambers from the box and ensuring that the temperatures will not drop below 15ºC indoors. Similarly, hot gel-packs can be used in climates with low temperatures, following the same instructions mentioned for cold or frozen ones.
Periodically introduce data loggers inside the boxes to register temperatures during transport
To increase insulation, use aluminium foil to wrap the doses together (all set). You can also put the polyethylene box inside a cardboard box.
In case there was space in the container, fill it with polystyrene shavings.
A factor that has been recently studied has been the possible effect of vibrations that occur during transport. As semen doses are being produced in large CIAPs and the routes involve very long distances for long periods of time, depending on their geographical location or the country, vibration is becoming an important factor. In recent years, several authors have described that it can have an impact by increasing the pH of the medium and increasing oxidative stress and, therefore, on mitochondrial activity, acrosome and plasma membrane integrity, as well as motility.
————————————-
And this is all regarding transportation. We hope you found it interesting and useful.
In future publications, our colleague Joaquin Miguel will address the reception and on-farm preservation of the semen doses.
Until then, take care of yourself and your loved ones.
——————————————-
Bibliography:
Althouse, G.C, M.E Wilson, C Kuster, and M Parsley. 1998. "Characterization of Lower Temperature Storage Limitations of Fresh-Extended Porcine Semen." Theriogenology 50(4): 535–43. http://linkinghub.elsevier.com/retrieve/pii/S0093691X98001599.
Lopez Rodriguez, Alfonso, Ann Van Soom, Ioannis Arsenakis, and Dominiek Maes. 2017. "Boar Management and Semen Handling Factors Affect the Quality of Boar Extended Semen." Porcine Health Management 3(1): 15. http://porcinehealthmanagement.biomedcentral.com/articles/10.1186/s40813-017-0062-5.
Schulze, M. et al. 2018. "Effect of Vibration Emissions during Shipping of Artificial Insemination Doses on Boar Semen Quality." Animal Reproduction Science (January): 0–1. http://dx.doi.org/10.1016/j.anireprosci.2018.03.035.
 Vyt, Philip et al. 2007. "Air Contact Influences the PH of Extended Porcine Semen." Reproduction in Domestic Animals 42(2): 218–20
Rozeboom, K.J. 2003. Quality assurance of semen. Proceedings of the Allen D. Leman      Swine Conference, St. Paul, MN, USA. pp. 171-79.
https://projects.ncsu.edu/project/swine_extension/healthyhogs/book2007/belstra/belstra.htm